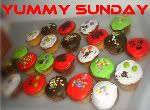 What every man or woman
SHOULD EAT
... hahaha, ...
WHEN STRENGTH IS NEEDED
, if you know what I mean... happy eating...

The two eggs resembling boiled eggs, that's what is called "PENOY"...

The one with the chick membrane, that is what we call "BALUT". To some people, the latter may look yucky with the embryo in it, but once you get the hang of it, you will love it...

Both are best eaten with vinegar and salt.